Lire le premier article dans le Midi Libre en 2000.
Lire le deuxième article dans le Midi Libre en 2001.
Le texte est bien pimenté par un journaliste. - A l`époque l`artisanat était au rendez-vous, actuellement ce sont, par contre, les jouets anciens qui sont à l`honneur.
Lire le dernier article du 4 janvier 2008 paru dans le Midi Libre Loisirs.
Columbus (the teddy bear of Britain's bear magazine) visited the Doll and Teddy Bear Museum in Lézan in August 2003 - see "Make my Day"
Click here to read the article
TEDDY BEAR CLUB INTERNATIONAL, August 2003
http://www.planet-teddybear.com/
La Vie du Jouet, mai 2005
www.collectionneur-chineur.fr
Autour de l'Horloge, Bulletin Municipal de Lézan, n:o 5 (26/6, 2009)
LANGUEDOC SUN
Our regional magazine
N:24 Nov/Déc 2009 Letters to the Editor: The Doll and Teddy Bear Museum

www.languedocsun.com
Testimonials:
- A la queue leu leu au musée de la poupée.
http://anduzeevasion.blogs.apf.asso.fr/archive/2009/08/23...
- °oO La rentrée des p'tits ours Oo°
http://filledelair7.canalblog.com/archives/_oo_mes_teddie...
- par Framboise et Jacky
:

http://www.miniaturama.com/fr/content/view/128/23/1/0/
-
Seija and Andrew from England:
http://souvenirs.midiblogs.com/archive/2010/05/16/a-letter-from-england.html
4. Not to forget my compatriots far away:

http://www.lounakirjailijat.net/
-
A site for writers in Southern Finland (Forssa - Ypäjä).
I am listed there now after publishing my book "My Dream in the South of France" in 2005. - My dream came true when I founded the Doll and Teddy Bear Museum.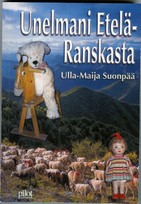 5.

Blogging:
Since I have been sharing "this teddy bear doll museum story" in my two blogs, first in Finnish and then in French, the museum has made many new friends and new partners...
http://souvenirs.midiblogs.com
http://museopaivakirja.blogspot.com/
(http://museopaivakirja.20six.fr/)
---
1915-1916
---